When Daniel Ricciardo left Formula 1 after the 2022 season, it was like he'd lost the drive to continue, like he'd lost his love for the sport. And that's what happened. So when he got the call from Red Bull to become its reserve driver, he thought working with the team and going back "home" would help him fall back in love with F1.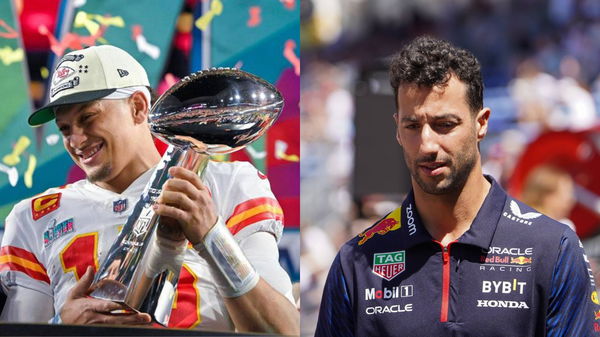 While sitting on the sidelines and watching Red Bull win race after race brought back some of his drive, he credited two-time MVP—one of which came at Superbowl LVII—Patrick Mahomes for inspiring his F1 return.
In an interview with F1 after AlphaTauri's announcement, Ricciardo discussed what made him want to race again. He said, "It was probably around the time I went to the Super Bowl. And I think being in a competitive environment." Nothing gets more competitive than the Super Bowl.
And watching the Kansas City Chiefs come back from a 10-point deficit to defeat the Philadelphia Eagles, Ricciardo said, "That was where I started getting some of those feelings back.
I could feel a lot of it, and I was like, 'this feeling hasn't gone yet,' like I would just want to be under the lights and just compete right now."And the Honey Badger officially returned to F1 last night at the Hungarian GP. After starting in 13th, Ricciardo finished the race in the same position. While it might not seem like a good result, finishing 13th wasn't straightforward for the Aussie. Following a good start from the line, he was back-ended while going into Turn 1, which made him fall to the back of the grid.
Getting in an incident in the first few meters of his first F1 race after eight months? That wasn't the way he wanted to restart his career. In a post-race interview, he said, "It's like your first NFL game. Someone's going to put a big tackle on you just to welcome you to the sport."