Last year's No. 1s successfully defended their titles in Barcelona and Stuttgart, and showed they still have a gear or two that even their best opponents can't find.Defense was the watchword of the weekend in tennis.
On Sunday, four players set out to defend their titles from a year ago; three of them—Iga Swiatek in Stuttgart, Carlos Alcaraz in Barcelona, Holger Rune in Munich—succeeded. Only Andrey Rublev fell just short at the finish line, 6-4 in the third set, to Dusan Lajovic in Banja Luka.
Did we think there would be this type of stability at the top the sport in 2023? We're coming off a season when three former No. 1s, Ashleigh Barty, Serena Williams, and Roger Federer, retired. We're in the middle of a season when Rafael Nadal has played just two matches, and Novak Djokovic hasn't made a final since January. Normally, you might think chaos would ensue at a transitional moment like this.
Instead, we see the cream rising to the top, and staying there from one week to the next. Daniil Medvedev won four straight tournaments in February and March. Rublev and Rune made the Monte Carlo final last week, and did the same at different tournaments this week. Aryna Sabalenka and Elena Rybakina have each raced through 13-match win streaks.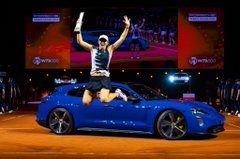 On Sunday, this early season trend of steady excellence reached its peak in Stuttgart and Barcelona. Neither is a major or a Masters 1000, but their finals included four of the game's best players. At the Porsche Grand Prix, Swiatek, the WTA's No. 1, beat Sabalenka, the tour's No. 2. At the Banc Sabadell, Alcaraz, who was the ATP's No.
1 to start the year, beat No. 5 Stefanos Tsitsipas. Swiatek and Alcaraz took the best shots from their highly-ranked opponents, won by fairly routine 6-3, 6-4 scores, and reminded us that they have a gear, or a couple of gears, of their own.