After graduating from Whitehouse High School, Brittany Matthews never thought she would play college soccer.
Four years later she not only became a collegiate star at UT Tyler, but on Monday Matthews signed a professional soccer contract.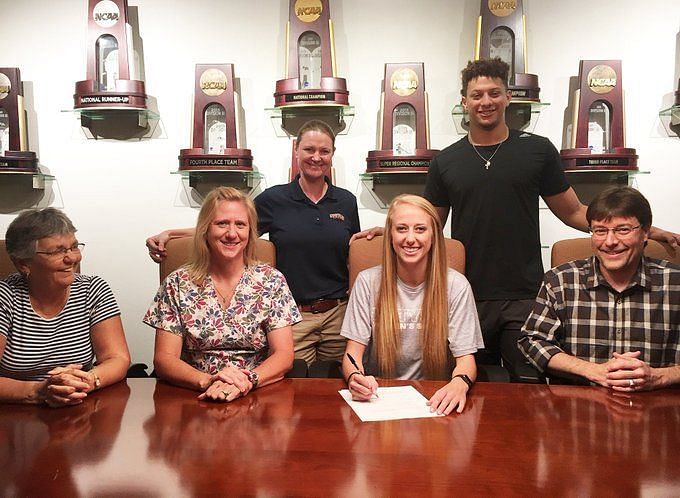 With her family, friends, teammates, coaches and her boyfriend Patrick Mahomes II looking on, Matthews inked with the Iceland pro team of UMF Afturelding/Fram in the Champions Room at the UT Tyler athletic building.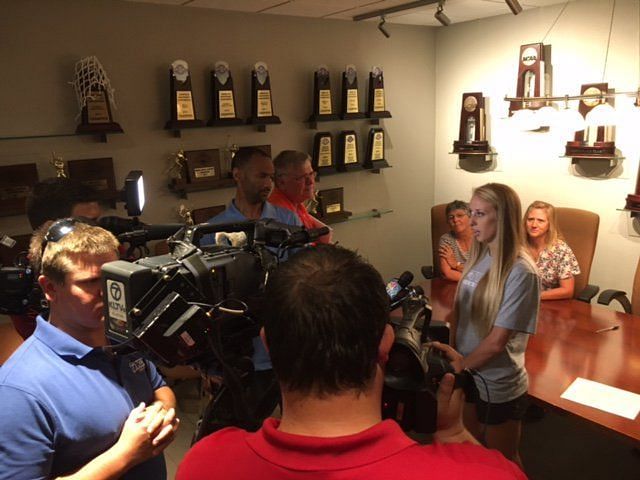 Matthews' mother Diana Massey, father Scott Matthews and grandmother Mary Zoellner were in attendance as well.
Matthews, a 5-5 forward, completed a stellar four-year career with the Patriots with 31 goals, 16 assists and helped the team to a 56-13-5 record. She earned all-region honors after her senior season and is second all-time in program history with 78 points and her 31 goals."I didn't even see myself playing college soccer when I graduated high school," Matthews said. "However, I ended up coming to UT Tyler to play soccer because it was close to home and I knew a few girls that played here that loved it and told me I need to join the family. So I did, and these last four years have made me fall in love with soccer all over again and want to go on and play professional soccer.
"Every coach I have had at UT Tyler made a huge impact on my love for this game and my decision to play professional soccer. An opportunity opened up for me in Iceland and I could never pass up such an amazing experience to go do what I love."
Matthews joins former UT Tyler and Whitehouse teammate Chestley Strother, who signed a pro contract in December, also with an Iceland team.
Matthews, who will graduate from UT Tyler with a degree in kinesiology following the completion of an internship, will report to Iceland in June.
Matthews said her new team has already played Strother's UMF Sindri H￶fn squad, but they are looking forward to getting together when she gets to Iceland.
Strother's team is in the town of H￶fn located on the east coast of Iceland. Matthews' team is in Mosfellsbaer, which is just north of Reykjav■k, the capital of Iceland and located on the west coast.
"I am beyond excited for Brittany," UT Tyler head coach Stefani Webb said. "This is our third player in a year to have the opportunity to play professionally and I think that speaks volumes for what we are doing as a program. The coaches talk about our player's ability to adapt to the professional environment and I attribute that to the culture of this program. It's about disciplining yourself in the little thing to be able to put yourself in the best situation to succeed whether that is on the field, in the classroom or in life."
PATRIOT POINTS: Former UT Tyler soccer player Lindsey Halbrook is also continuing her playing career in the Northern Division of the English Premier League along with working for Youth For Christ in England. A Tyler native, Halbrook played four years at defender for the Patriots and earned American Southwest Conference second-team and Academic All-Conference honors after attending Robert E. Lee High School. Halbrook plays for the Middlesbrough Ladies. … Reykjav■k is some 3,736 miles from Tyler and Iceland is in the North Atlantic Ocean.