It looks like Travis Kelce, 32, and his ex-girlfriend Kayla Nicole are giving their relationship another go just under four months after he confirmed their split! The Kansas City Chiefs tight end seemingly referred to her when talking about his "girlfriend Kayla" in a Q&A video he took part in with WNBA player Chiney Ogqumike, which can be seen here, on Nov. 30, and even called her "the absolute best." The comments came after Chiney asked him about who was on his Christmas list this year.
"So obviously we've got the fam. My girlfriend Kayla. Kayla is definitely on the list," he said while answering the question. "Always gotta do it big for Kayla." Chiney then replied with some love for the brunette beauty."By the way, I love her. We follow each other, sisters in sports, I'm here for her," she gushed before Travis called her "the best." "She's the absolute best. She's a big fan of yours as well, she mentioned it before we got on" he replied.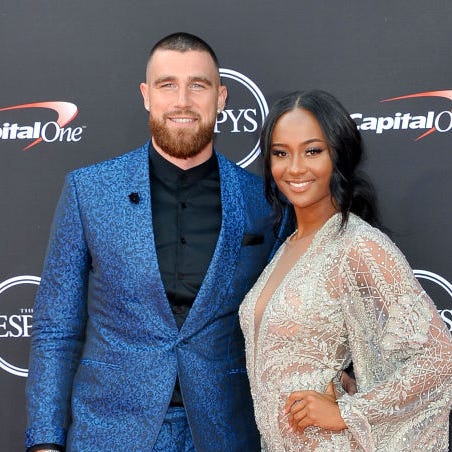 Travis' admission about Kayla comes after he confirmed their breakup on Aug. 4. Just a few days before, on Aug. 1, he and his lady love unfollowed each other on social media, which prompted speculation that their relationship was off.
There were also rumors that Travis cheated on Kayla and that's what caused the split, but the football player went on social media to set the record straight.