But in a year when she's battled through an ankle injury to make the team, it was a welcome surprise.
"I think that gives me a lot of confidence, especially because I still haven't done all four passes on floor and then my bar routine could have been a little bit better," Lee said. "I know it probably won't happen again because her floor and vault, and she usually is pretty good on everything else. But I was really excited."Biles still won the two-day competition by 2.266, but Lee's all-around score Sunday marked the first time anyone had bested Biles in any phase of an all-around meet since 2013.
Lee showed why she's a contender for gold on uneven bars, finishing first at trials. On Sunday, she combined crisp releases in a beautiful, flowing routine that gave her the highest bars score of the day.A two-time U.S. champion on bars, Lee also has a world bronze on that apparatus.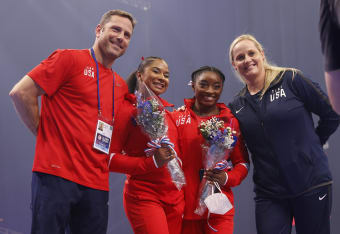 The 15.300 she scored on her routine in the first day of competition was a meet and career high.
"I think it's just a really proud moment overall because it's such a hard bar routine and when it finally came together, it just felt like all my hard work paid off," Lee said.Lee also led the competition on balance beam, using a confident, clean routine to edge Biles – who has an Olympic bronze in the event. Though neither Lee nor Jordan Chiles had much reason to worry about making the team, Lee's beam helped her secure the second guaranteed spot behind Biles.
Lee has struggled through an ankle injury that had left her with a noticeable limp when not competing as recently as three weeks ago. But if trials are any indicator, she and Chiles give the United States a shot at a second all-around Olympic medal in Tokyo.
Earlier this week, Lee said her ankle had been getting stronger with competition and she expected that to continue if she made the Olympic team.