TOKYO — Simone Biles, the headliner of the Tokyo Olympics for Team U.S.A., is not done just yet.
After withdrawing from most of her events at these Olympics because of mental health issues, Biles will compete in the balance beam final on Tuesday, her final possible event in Tokyo. Her decision was announced by U.S.A. Gymnastics on Monday afternoon just before the start of the floor exercise final, which Biles elected to skip, and nearly a week after she withdrew from the team final following her vault. In interviews that night, she said it would have been dangerous for her to try to perform her complicated and daring routines because she had lost the ability to gauge where she was in the air in relation to the ground.
"We are so excited to confirm that you will see two U.S. athletes in the balance beam final tomorrow — Suni Lee AND Simone Biles!! Can't wait to watch you both!" U.S.A. Gymnastics said in a statement.
Last week, Biles competed in qualifying and in the team finals, but only performed in the first event of team finals — the vault — before withdrawing because she felt that she could not compete safely and didn't want to jeopardize her team's chances at a medal. Her teammates competed in the rest of the event without her, and she earned a silver medal with them.
Since then, Biles had backed out of all-around final and three event finals, which were the vault, uneven bars, floor exercise and balance beam. While those events unfolded without her, she trained in a local Tokyo gym to try to ease her way back to doing her skills. It was both scary and disappointing, she said, explaining that her brain wanted her to do twists in the air, her body was just not cooperating."Literally can not tell up from down," she wrote in an Instagram story. "It's the craziest feeling ever. Not having an inch of control over your body."Biles, the four-time Olympic gold medalist, wrote that she "seriously cannot comprehend how to twist," and noted that the problem appeared the morning after team qualifying at the Tokyo Games. While she had experienced the problem before, she said, she never has faced it on every single apparatus.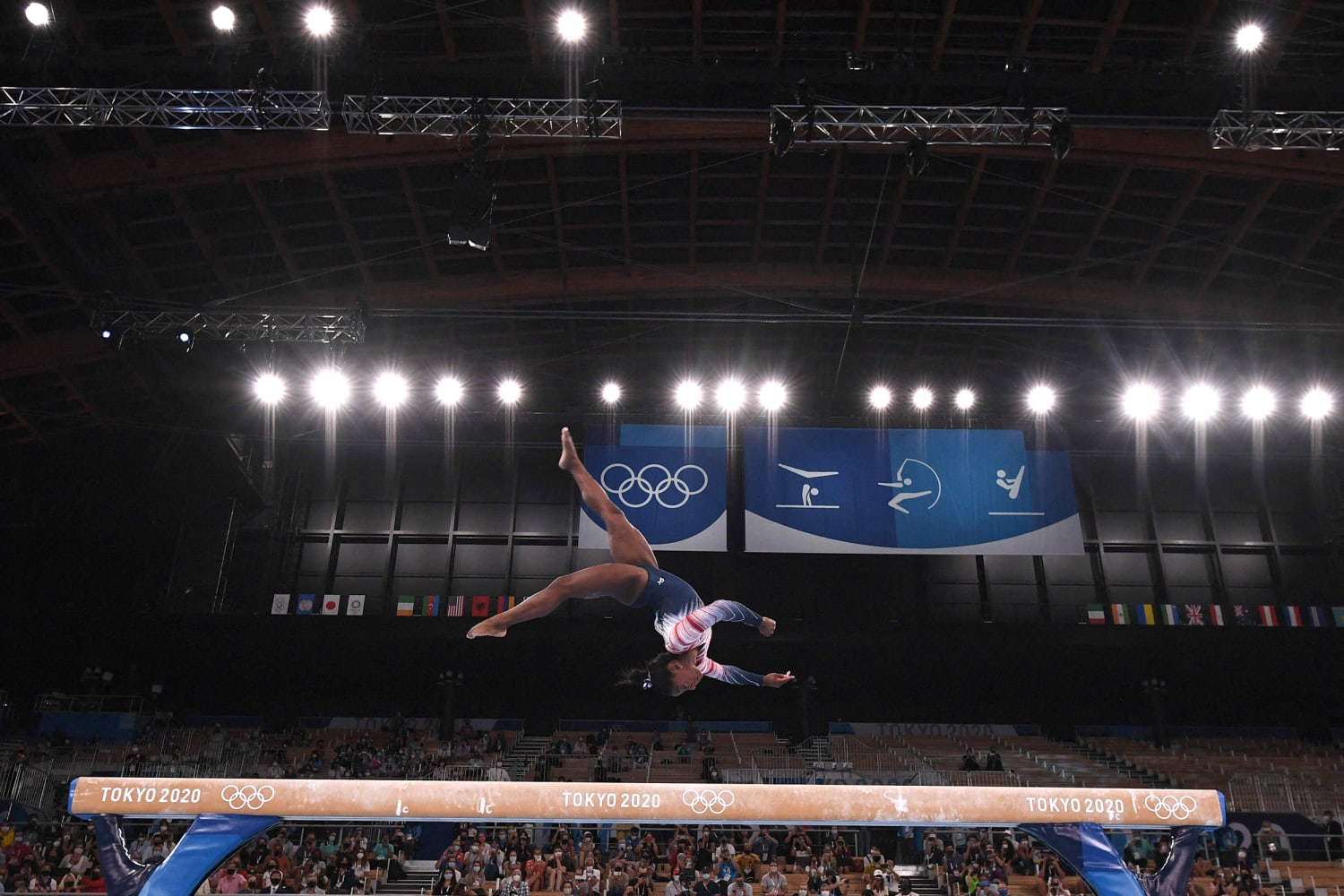 "Sometimes I can't even fathom twisting," she wrote. "I seriously cannot comprehend how to twist."
Competing on Tuesday gives Biles a chance to win a gold at an Olympics where she had been expected to dominate. If she does win the event, it would also be redemption for her performance on the balance beam final at the 2016 Games, where she was the gold medal favorite but came away with the bronze. Sunisa Lee, who won the Olympic title in the all-around last week, will be the other American in the balance beam final.
Biles's performance in the balance beam now will be the must-see event, starring the athlete who came into Tokyo as the face of gymnastics worldwide. She was expected to win the all-around and become the first woman in 53 years to repeat as Olympic champion in the all-around. She also was planning to perform her breathtaking and dangerous Yurchenko double pike vault, which is so risky that she could break her neck or ankles if she doesn't rotate enough to land squarely on her feet. If she had landed that vault at the Games, it would have been named after her.Biles also has a skill on the balance beam named after her. "The Biles" dismount is a double twisting double back somersault. Considering her issues with twisting at these Games, it is unclear if she will perform that move here. She said last week that she would not be twisting at all during her Gold Over America Tour, the post-Olympics tour that will feature women in the sport.
Though Biles is considering retirement, she has hinted that she might return as a vault specialist at the 2024 Games in Paris, to honor her French coaches. But life outside of gymnastics is calling and Tuesday's performance might be her farewell bow.
Going into these Games, Biles, 24, said she felt old and was physically in pain, and was eager to start the next chapter of her life — one outside of the gym, without pressure.