The term Air Mahomes isn't necessarily referring to the Kansas City Chiefs passing game.
An all-pro and technology-minded quarterback, Patrick Mahomes is believed to be the only NFL player to officially endorse a private jet company. Due to his business dealings with Whoop, Hyperice, Buzzer and "Jake from State Farm"—not to mention his recent bachelor party, wedding and honeymoon—Mahomes has had a major need for his own personal airplane and is a key shareholder of the burgeoning Kansas City-based company Airshare.
In other words, if the QB calls a morning audible and decides he wants Airshare to fly him from his off-season home in Dallas to Los Angeles – like, asap – he can snap his fingers and make it happen. As well as bring his two dogs, a pit bull and a Cane Corso, on board with him.
"I put a lot of pressure on [Airshare] sometimes,'' a grinning Mahomes told SportTechie Wednesday when asked if he ever asks for a flight on a moment's notice. "Same day stuff. It makes it hard on them sometimes, but that's how life rolls sometimes. They make it happen. There's never a point where I'm in trouble or get stranded somewhere I don't need to be.''Mahomes is a prime walking-talking example of the new 21st century mega-athlete—someone who's been MVP of a Super Bowl, who dresses up as a "sneaker head'' in commercials, who "dabbles'' with NFTs through Dapper Labs and whose Whoop numbers went viral during last season's epic Kansas City-Buffalo Divisional playoff.
With a full calendar of production or board meetings, in addition to his regular gig as Chiefs messiah, he is the prototypical 2022 so-called superstar who is never in one place for long. Which is why a private jet with all the technological bells and whistles has virtually changed his life.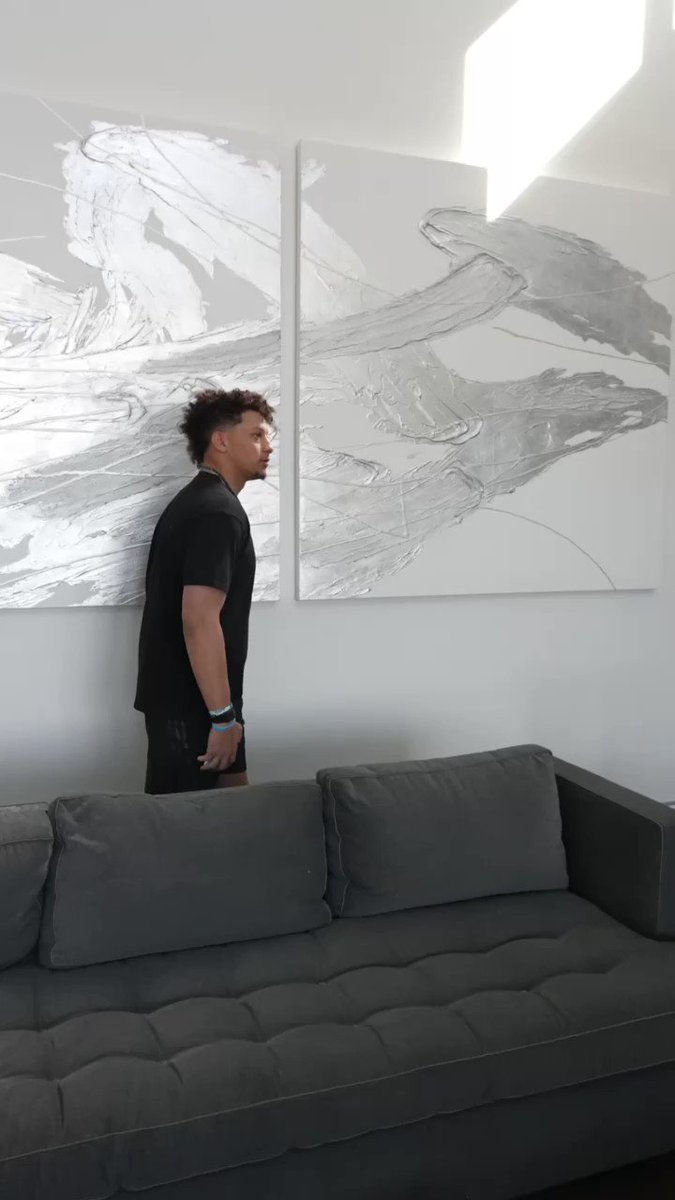 "I would say [with the jet] I've been able to kind of make multiple meetings—I think that's one of the biggest things for me,'' Mahomes says. "If I'm in Dallas, being able to fly to Kansas City and either be at a practice or a meeting with the coaches or even stop by the house in Kansas City and get what I need there. And then go somewhere else like L.A. or New York or wherever and be at these business meetings with these companies that I'm partners with.
"Obviously, you can try to fly commercial…But it's such a hassle of getting in and out of airports and security lines and all the different type of stuff. Whereas I'm able to get to these places, save my time, manage my time, be at these meetings. But at the same time not be exhausted and be able to take care of the business I need to take care of on the plane rides so I can really focus on what I really need to focus on.''
His business relationship with Airshare, the 10th largest private jet operator in the country with a fleet of about 50 airplanes in hangars everywhere from Texas to Canada, was built on a whim and a hunch. Since 2012, the company had already been flying Chiefs executives such as CEO Clark Hunt to NFL league meetings—as well as the team's personnel staff and coaches to combines and Pro Days. So, by the time Mahomes arrived as the 10th overall pick of the 2017 draft, the collaborations between franchise and airline were already cemented.During his ensuing nondescript rookie season, Mahomes was just a no-name backup quarterback behind Alex Smith before starting the final meaningless game at Denver. But when Smith was traded to Washington that off-season, Mahomes became QB1. And Airshare's chief marketing officer Andy Tretiak made an out-of-thin-air suggestion.
"Andy…came up with the idea, 'We've got this new young supposed-to-be-great quarterback in town, might be nice to talk to him and see about a deal,' '' says Airshare's president and CEO John Owen.
The conversation was succinct. Airshare told Mahomes they already had a deal with Chiefs head coach Andy Reid and that Reid could vouch for them. And Mahomes responded with: Will you be able to fly my family up to every game?
The answers, all around, were yes. But no one could have predicted what was about to ensue for the quarterback in 2018: a 50-touchdown, 5,000-yard, league MVP season.
"Obviously, it's blown up since then,'' Mahomes says. "And kind of as I've grown, Airshare's grown.''
As Mahomes' sudden business opportunities trickled in, such as an eventual series of TV commercials for State Farm, there was the congruent need to fly in and out of Kansas City on a lark. Still, the quarterback would have declined many of those endorsements if the technology on the jet had not allowed him to prioritize football.