Whitehouse native and Kansas City Chiefs quarterback Patrick Mahomes is a superstar on the football field, but he's also known for his humble personality and giving back to East Texas.
On Monday afternoon, the South Tyler Rotary Club honored his service and compassion by making Patrick Mahomes an honorary member of the club. The club also gave him the Service Above Self Award and the Paul Harris Fellow recognition at the club's regular meeting.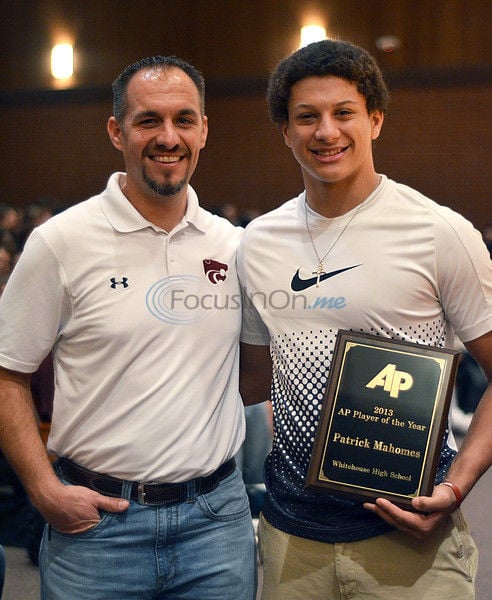 "I think we have a super responsibility to celebrate those who do it right," said South Tyler Rotary Club President Beth Blaisdell. "Today, we're going to be celebrating Patrick Mahomes. We all know Patrick's story of professional success, but Patrick also does an incredible amount of good for his community in East Texas, Kansas City and continuing to spread."
The Paul Harris Fellow honor recognizes people who contribute or have made contributions in their name of $1,000 to The Rotary Foundation. South Tyler Rotary Club members who already received the Paul Harris Fellow donated the necessary amount for his fellowship.
In addition to the Rotary honors, Mayor Don Warren issued a proclamation celebrating Patrick Mahomes' community service efforts by naming July 12, 2021, Patrick Mahomes Day.
Patrick Mahomes' father, Pat Mahomes, accepted the honors on behalf of his son and stood by Warren as he read the proclamation.
Warren noted Patrick Mahomes' support of the East Texas Food Bank and the Mentoring Alliance through his 15 and the Mahomies Foundation.
"As a Texas Tech alum, it's pretty exciting to read this proclamation. When you see Patrick and what he's done, not only is he a good player but he's a good man," Warren said. "It's an honor to read this proclamation for your son. You did a good job."
The nonprofit's mission is to improve the lives of children by supporting initiatives focused on health, wellness, communities in need of resources and other charitable causes. Patrick Mahomes established the foundation in 2019.
Pat Mahomes thanked Warren and the South Tyler Rotary Club for honoring his son, who was unable to attend the meeting.
"I talked to him this morning, and he wanted to say thank you to everybody. 15 and the Mahomies Foundation is doing a lot of things," Pat Mahomes said. "He's very focused on helping the communities that he lives in. Of course, he's got Kansas City, Whitehouse and also in Lubbock."
Pat Mahomes said the foundation is moving in the right direction, and he let the meeting attendees know his son appreciated the support from East Texas.
"They're (15 and the Mahomies) doing a lot of great things. I think they're headed in the right direction," the older Mahomes said. "There's not anywhere that he goes around here that he doesn't see his jersey and stuff like that. He's my son, and he's always been a humble kid. He knows Whitehouse is his home."
Local sportscaster Bill Coates also spoke of Patrick Mahomes' athletic ability at a young age and his continued kindness.