Plenty of speculation has already taken place surrounding Kansas City Chiefs star defensive tackle, Chris Jones and his future. He not only didn't attend the ceremony where the players received their new Super Bowl Rings. Jones also missed the recent mandatory minicamp because he is sorting out his future at the moment.
Chris Jones just posted this on his IG and I believe this was a pretty intentional clip considering his post sack celebration. Pay the man! pic.twitter.com/GLmiqi3Zk4

— how bout those CHIEFS (@hbtCHIEFS) June 13, 2023
But when asked about this situation, Patrick Mahomes made it clear that he wants Jones to stay. He is one of the main responsibles for keeping Patrick safe behind the line of scrimmage. Jones signed a four-year $80 million deal with the Chiefs in 2020 and he just completed what many believe was the best season of his carer so far. Jones is 28 years old but he think she needs to be the highest paid player in his position.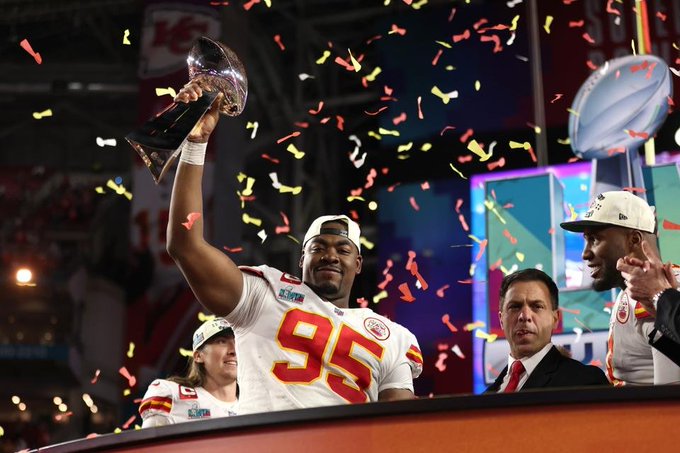 Kansas can't afford to lose another player after losing Frank Clark in free agency to the Denver Broncos. GM Brett Veach is hoping he can close a deal with Chris Jones soon, preferably before the start of the regular season. Currently, the Kansas City Chiefs are the leading favorites to win a second Super Bowl in a row.
But no Chris Jones means they will have to go after a ne star defensive tackle and there aren't many available on the market. All of the players and the fans want Jones to stay, that includes Patrick Mahomes. Pete Sweeney of Arrow Head Pride spoke to Mahomes and he said this: "It's part of the business. Chris knows that we love him here.
He's been a part of this team for a long time. He's one of the main reasons that we've had the success that we've had; he's been that leader on the defense. He's made a lot of big plays in what seem like the biggest moments. And you want those guys on your team. That's just part of it – and that's what makes this team so great:
whenever guys like that have to go handle their business, we let them handle it. When they jump back in the building, we get back right where we left off."