A month into the NFL season, Patrick Mahomes II, the Kansas City Chiefs' second-year quarterback and first-year starter, is the lead story. He's compiled 1,200 passing yards, 14 touchdowns, and zero interceptions, digging in as the early MVP front-runner. A fitting enough summary of Mahomes's year, to this point, came in the second quarter of Kansas City's Week 3 matchup against the San Francisco 49ers.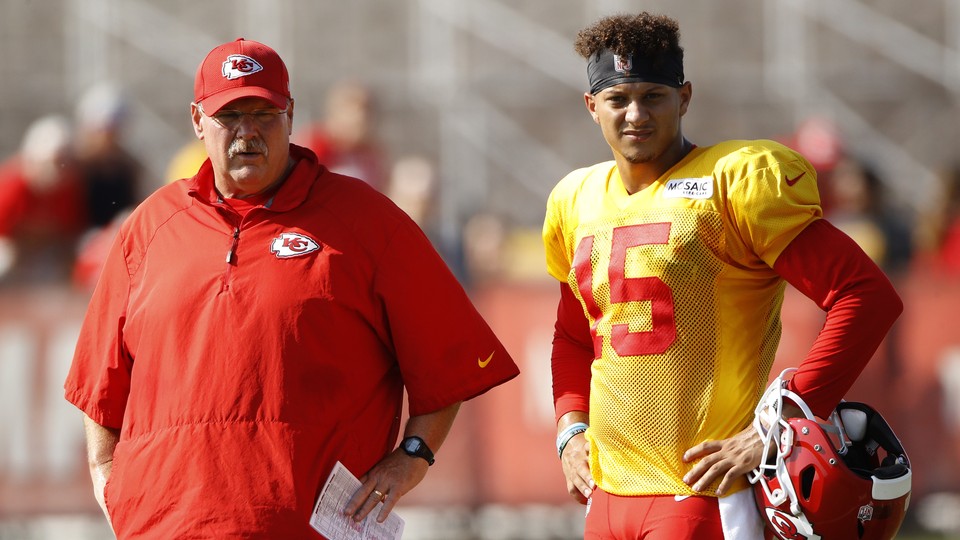 With two touchdowns already to their credit, the Chiefs had marched to San Francisco's 5-yard line when a pass rush sent Mahomes scrambling backward to almost the 25. He swerved, stumbled out of a would-be sack, and then—at the moment when most quarterbacks would've chucked the ball out of bounds and lived for another play—rifled a pass between linebacker and cornerback to the wide receiver Chris Conley in the last sliver of end zone. It would've been an impressive throw under ideal circumstances; on the run, with an extra quarter-field between Mahomes and his target, it was dizzying. It was also just the first of three unanswered passing scores.
The Chiefs shortly took a 35–10 lead into halftime en route to a 38–27 victory.Award twice already, and his 13 touchdowns through three games broke a record set by Peyton Manning in 2013. After opening the season not even favored to win its own division, Kansas City now has the third-best odds of winning the Super Bowl. To the Chiefs, Mahomes looks the part of a franchise cornerstone; to the league, he's a bankable superstar. But to the head coach, Andy Reid, whose extravagant schemes have been no small part of Mahomes's early success, the player could offer something even harder to come by: belated validation for a career spent at football's cutting edge.
It takes just a glance around the league to see the influence Reid has had in his two decades at the helm of the Philadelphia Eagles and the Chiefs. His former assistants make up a sizable portion of the NFL's head-coaching ranks. Doug Pederson, who led the Eagles to their first championship last season, and Matt Nagy, the first-year coach of the resurgent Chicago Bears, are only the most recent examples. Reid's offense, which borrows liberally from the more flamboyant approaches favored in college football, is widely mimicked throughout the league. To watch a Reid team is to sense the outer reaches of the sport—all reverses, shovel passes, sleight of hand, and sudden downfield attacks. An old-school run up the middle registers as a surprise.