Two-time NFL Super Bowl champion Travis Kelce threw a huge festival in Kansas City on Friday night, and he got some big names in music to entertain the raucous crowd.
The Kansas City Chiefs star tight end hit the stage for the debut of his "Kelce Jam" music and food festival with the likes of Machine Gun Kelly and Rick Ross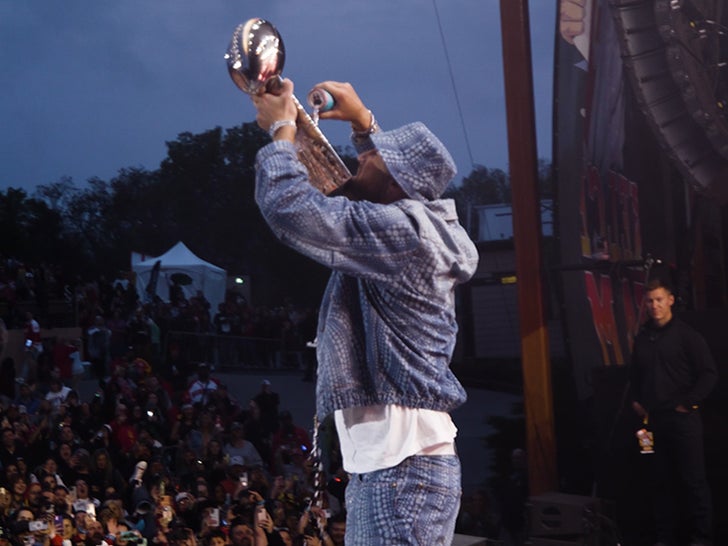 Kelce kicked things off in a big way, strutting out in front of 19,000-plus fans and giving them a warm welcome as he spiked his 2023 Vince Lombardi Super Bowl trophy.
Then Kelce got into "Beastie Boys" mode and, with the help of MGK, cranked out the band's 1986 hit song, "Fight For Your Right." Kelce and MGK didn't miss a beat together, jumping around on stage while getting the crowd all riled up.
At one point, Kelce gave a massive hug to MGK and lifted his feet off the ground. They also did an encore performance but played the same song, which went on for nine head-banging minutes.
There were some tender moments as well. MGK invited a couple of 7-year-old girls on stage to help him sing his tune, "my ex's best friend." The musician also autographed their T-shirts as Kelce led the crowd in chanting "MGK."
After that, it was Rick Ross' turn to make a splash. The famous record exec turned "Wingstop" franchise owner hosted an onstage chicken wing-eating challenge between two Chiefs fans. A man named Hayden Gillum took home the winning statue after scarfing down 19 wings in 90 seconds.