Two-time NFL MVP Patrick Mahomes and the Kansas City Chiefs are motivated by the thought of repeating as Super Bowl champions.
Mahomes made the remarks to reporters on Tuesday at Missouri Western State University, the Chiefs' training camp home.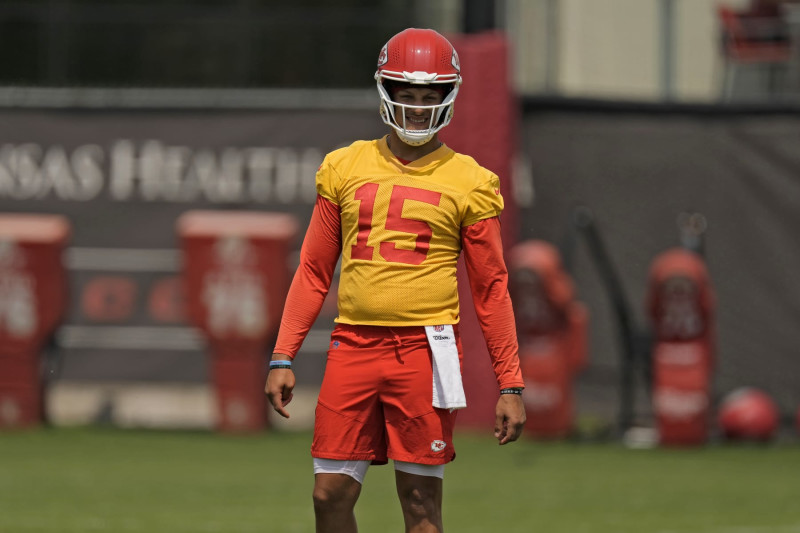 "Everybody's motivated by that," Mahomes said, per ESPN's Adam Teicher.
"You should be motivated to do it again. When you have that parade, when you go through the offseason that I've been through, you want to do it again. You only get those opportunities by winning the Super Bowl. And so for us, we want to make sure that we can build up and try to win that Super Bowl again because that moment, that feeling is something that you just wanted to grab every single time that you get the opportunity to do it."The Chiefs can become the first team to repeat as Super Bowl champions since the New England Patriots in 2003 and 2004. They had a shot to go back-to-back in 2020, but Tom Brady, who led those Pats teams two decades ago, helped guide the Tampa Bay Buccaneers to a 31-9 victory over the Chiefs in Super Bowl LV.
However, the Chiefs have a good shot at breaking the two-decade back-to-back championship dry spell. It helps to have the best player in football in Mahomes, whose resume includes five AFC Championship Game appearances, three AFC title wins and two Super Bowl victories in 2019 and 2022.
But the Chiefs also return many key players from last year's team, including tight end Travis Kelce, defensive lineman Chris Jones and offensive linemen Joe Thuney and Creed Humphrey.
Another Super Bowl victory won't be easy, especially with a stacked AFC that features star quarterbacks such as the Buffalo Bills' Josh Allen, the Cincinnati Bengals' Joe Burrow and the Baltimore Ravens' Kansas City Chiefs. But on paper, Kansas City certainly has the talent to get it done.