Kansas City Chiefs QB Patrick Mahomes has been keeping himself busy during his time off the gridiron. With training camp approaching in just a few days, Mahomes has been using the offseason to go on vacations with his family and take part in various charity events. One of the most pass-times for the 2X Super Bowl champion has been playing golf. From being a part of the Aloha Golf Classic to beating NBA stars Stephen Curry and Klay Thompson with his teammate Travis Kelce, it looks like Patrick Mahomes has found a new sports obsession apart from playing football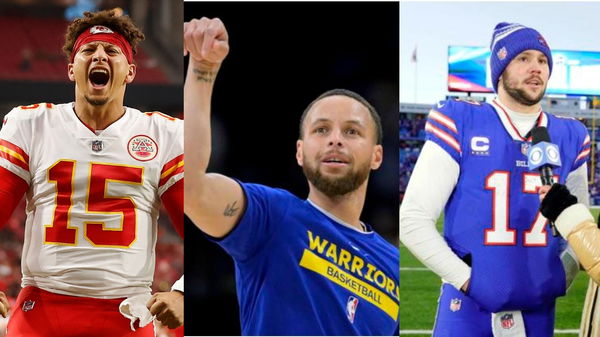 But recently Mahomes gave fans a glimpse of being multi-talented in the field of sports. This led to Buffalo Bills QB Josh Allen being envious, which resulted in both of them overshadowing Stephen Curry's three-point shooting brilliance.
Both Mahomes and Allen are taking part in this year's American Century Championship, a celebrity golf competition starting from July 14th to July 17th. But while the competition focuses on golf, both QBs left fans shell-shocked after displaying their basketball prowess.The Chiefs QB took to Instagram to share a story where we see him making a long basketball shot in one go. This left the fans roaring into a thunderous cheer, as they could not believe the QB's one-shot basket. Patrick Mahomes then shared another story, which shows Josh Allen following up on him. In the story, we see the Bills QB first inquiring about how many tries did Mahomes take to make a basket. He did not believe the crowd when they said it was just one try before going on to hit a spectacular basket in his first attempt itself.