FRISCO, Texas — DeMarcus Ware needs more than six minutes.
"That time isn't long enough," Ware said of the six-minute limit for his induction speech as part of the Pro Football Hall of Fame's Class of 2023 on Aug. 5. "I start to think about all the things I went through to get me to this point …"He doesn't need to finish the thought.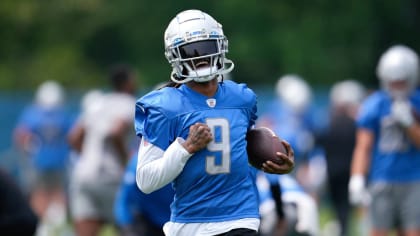 How is he supposed to sum up his path from Troy University, as an almost after-thought recruit, to the Dallas Cowboys as a first-round pick and a 12-year career with the Cowboys and Denver Broncos, filled with 138.5 sacks, four All-Pro selections, nine Pro Bowl appearances and a Super Bowl win in 360 seconds?
He could spend those six minutes on a six-day span in 2009, when he secured his legend as one of the all-time greats, going from motionless on the field after suffering a neck injury versus the Chargers to making a game-winning strip sack of New Orleans Saints quarterback Drew Brees to help push the Cowboys toward the playoffs.
"I was having an out-of-body experience," Ware said. "I was floating when I was on that ground, when I got hurt against San Diego. It was like, 'I'm here, but I'm not totally here.'"
THERE WERE 11 minutes, 35 seconds left in the fourth quarter against the Chargers at the brand-new Cowboys Stadium on Dec. 13, 2009. The score was tied at 10. It was second-and-7 and Chargers quarterback Philip Rivers surveyed the Dallas defense from the Cowboys' 48. He never looked to his left. He knew No. 94 was there. He knew Ware would be coming after him.
As Ware gained the edge on left tackle Marcus McNeil, about 2 yards from Rivers, the quarterback stepped up in the pocket. Ware reached for him but came up short and his momentum carried him into the left thigh of Chargers right tackle Brandyn Dombrowski.
Ware's head was tucked as he collided with Dombrowski, and he immediately hit the ground.
His arms splayed; his legs too.
He lost feeling in his extremities.
Editor's Picks
The legend of Cowboys' Emmitt Smith's NFL rushing record and why it might never be broken
253dTodd Archer
The story of the Cowboys scout and prospect son Dallas just drafted
67dTodd Archer
Cowboys' legendary No. 88: From Pearson to Irvin to Dez to CeeDee
282dTodd Archer
"Imagine somebody punches you and all of your wind goes out of your nose," Ware said. "It stung a little bit. I'm lying there on the ground, looking around. I see the lights in the stadium."
Marcus Spears, a defensive lineman taken nine picks after Ware in the first round of the 2005 NFL draft and one of his closest friends, went to Ware.
"We look at D-Ware as Superman," Spears said. "The dude didn't get hurt. Didn't really miss anything [Ware missed three games in nine seasons with Dallas]. When he's first down, he's not moving, and I'm like, 'D, move something, bro.' I think it was just initial shock."
Jim Maurer, who has been the Cowboys' head athletic trainer since 1997, went onto the field with the rest of the medical staff, assuming the worst.
"From the beginning, we had a conscious player that was talking to us, which is a great sign, but you're preparing for other things," Maurer said. "So you take the precautions because when he says there's neck pain, you don't ignore that. You have to follow through. That's why we took his face mask off and put him on the backboard until you can rule things out."
The stadium was silent. A shot on TV of Jerry Jones showed the owner and general manager with his hands over his face. The players' level of concern was obvious.