Ace gymnast Simone Biles and NFL safety Jonathan Owens have the most fascinating love story. Ever since they met for the first time during the pandemic, the power couple made many heads turn their way through their adorable dynamics. From hailing for each other in their respective sporting arenas to getting engaged in the most enchanting setting, the couple came a long way.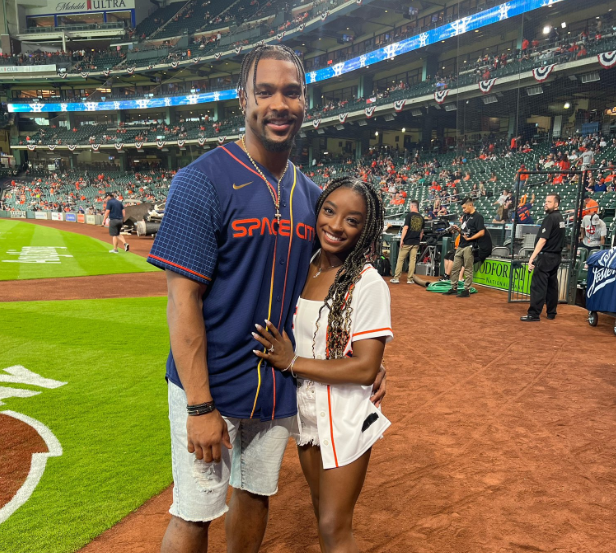 We can't agree more with Owens when he deemed his relationship with Biles as "a match made in heaven". Let's take a look at the complete timeline of Biles and Owens'In the year 2020, Biles and Owens connected with each other through the dating app 'Raya', just a few weeks before the COVID-19 pandemic caused a global lockdown.
After sliding into each other's DMs, they met in person for the first time in March 2020. The meeting immediately sparked a romance between the pair.Though Biles didn't officially meet Owens until March 2020, she later discovered that they both had an impromptu meeting with each other in 2019. The Olympian shared a throwback picture on her Instagram handle in January 2022. The photo showed Biles on the field at NRG Stadium for the 2019 Houston Texans' match with Owens standing directly behind her. Captioning the picture, Biles wrote, "God works in mysterious ways". Clearly, they were bound to cross each other's paths.
When the couple made their relationship Instagram official
Following their meeting in March 2020, it took the couple another 5 months to make their relationship official. In August 2020, Biles took to her Instagram to pull off the curtains from her romantic amity with the NFL champion. Biles shared an affectionate photo of herself with Owens and wrote, "it's just us".
Following this, the Texan quarterback also shared an adorable snap of the two cuddled up in front of a mirror. Captioning the picture, the NFL safety penned, "Now you rockin' with a real one". Since then, the couple continued to give glimpses of their life together through their social media handles.