Concluding a French Open that has seen an unexpected number of American women deliver on clay, Coco Gauff will face off against Iga Swiatek in the women's singles final on Saturday.
Earlier today, Gauff's semi-final match against the Italian player Martina Trevisan was finished in just two sets, 6-3 6-1. With her win, 18-year-old Gauff becomes the youngest woman to reach a Grand Slam final in 18 years; her most recent predecessor is Maria Sharapova, who reached the Wimbledon finals in 2004 at age 17.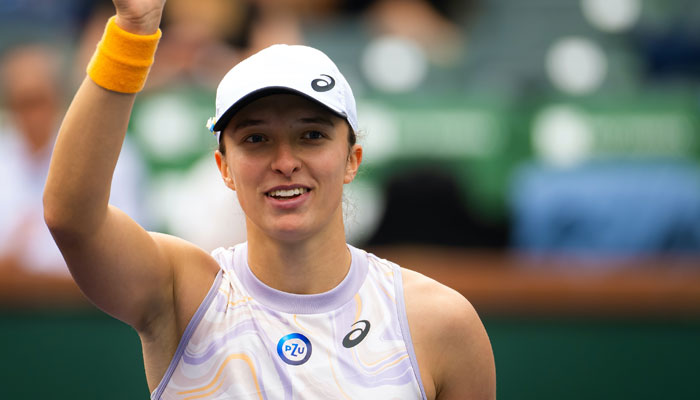 While Gauff's victory over Trevisan was somewhat foreseeable—the latter player is currently unseeded, and her ascent to the semi-finals has been described as a "Cinderella run"—a series of unforced errors got the match got off to a rocky start. Yet once the second set rolled around, and Gauff masterfully broke Trevisan's serve in a tense 14-minute game midway through, the American player emerged triumphant.Today's match should serve as a major point of pride in Gauff's short but thrilling career thus far. She might not have had as splashy a rise to the top ranks of tennis as some of her peers, but her journey has been seriously impressive all the same.
She's also matched her power on the court with a devotion to using her platform to advocate for political causes. Gauff delivered a powerful speech in support of the Black Lives Matter movement at a 2020 protest in her hometown of Delray Beach, Florida, following the killing of George Floyd, while this March, she spoke out against the "don't say gay" bill introduced in Florida, arguing that "for me, who has friends in the LGBTQ+ community, I couldn't imagine not being able to talk about your identity. I feel that's something that is normal."
Following her victory today, when asked to sign the camera lens, Gauff used the moment to support the calls for stronger gun control in the United States following recent shootings in Buffalo, Uvalde, and Tulsa. Her message read simply: "Peace, end gun violence."Yet even with the well-deserved goodwill of her nation behind her, Gauff will have her work cut out for her when facing Swiatek on Saturday. Currently ranked world number one, the Polish player has fulfilled every expectation that she would dominate this year's French Open, and remains the odds-on favorite to take the Musketeers' Trophy at Roland Garros this weekend. But whatever the outcome, the match will mark a major milestone for Gauff—and firmly seal her status as a formidable athlete to keep your eye on moving forward.More Great Culture Stories from Vogue
It's Finally Dawning On Me That I Might Be Single Forever
The Best True-Crime Podcasts to Listen to Now
I Wanted Revenge. What I Got Was Better.
These Celebrities Who Married Normal People Will Surprise You
Listen to 'The Run-Through with Vogue', a new weekly podcast featuring the most exciting stories and hot takes from the worlds of culture, politics, sports and–of course–fashion