When the two gunslingers, Patrick Mahomes, and Jalen Hurts meet each other for their Super Bowl 57 game in Arizona, it is going to be a great night. Mahomes' biggest fan, his mom, Randi Martin, happens to be the happiest person on Earth. Ahead of the game, she penned a thoughtful note for her son, cheering for the ultimate battle on Sunday.
America's Favorite Video Today
This is the second time Patrick Mahomes will enter the grand stage of the Super Bowl in three years. His bitter loss against Tom Brady and the mighty Buccaneers in 2021 shall prove to be a learning lesson for this youngster. Regardless of the results and expectations, Randi Mahomes claimed to be a proud mom and shared a throwback picture from his high school.Indeed, the moment that Patrick Mahomes is going to experience on Sunday is something that many quarterbacks aspire for their entire lifetime. His sheer passion and hard work toward the game landed him an opportunity to conquer this grand stage again.
Meanwhile, Randi shared an old high school photograph of Mahomes and captioned the post saying it all feels like yesterday."This feels like yesterday, but today I'm headed off to watch (try too ????) my boy. Cheering for my kids never gets old. I wouldn't have it any other way #chiefs #15 #ibelieve #blessed," she wrote in the caption.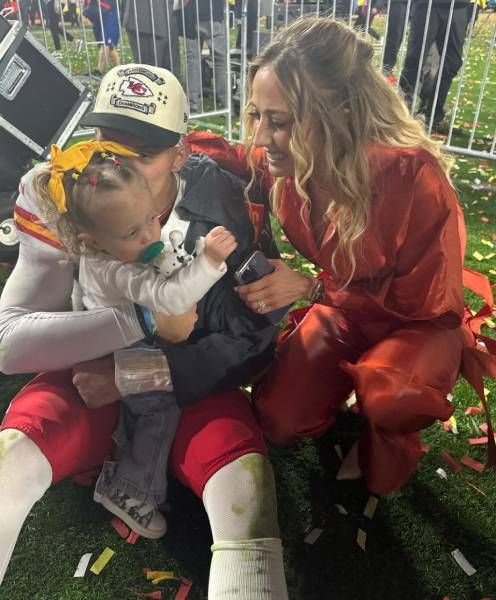 Later she reposted the same picture in her story, calling herself, "just a mom cheering her son,". Unlike last time, the Mahomes' squad would be hoping for a cheerful Super Bowl game. Back in 2021, Randi looked clearly pissed at referees and called out the opposition for allegedly making foul plays.She sent back-to-back tweets and remained active on social media, holding Tom Brady and his former wife, Gisele Bündchen, responsible for those setbacks.
Anyway the end result turned out to be a disappointment for Kansas CityAlthough Patrick Mahomes showcases a fierce attitude on the field, the gunslinger possesses a calm attitude. Interestingly, the ability to control emotions and tackle those setbacks comes from his mother.Mahomes' father, Pat Mahomes, credited his son's ability to heal, especially from the injuries he incurred recently, and praised his former wife for imbibing essential qualities. "His mama has some different genes. She's double-jointed and all that," Pat Mahomes said in an interview, per Yahoo Sports.