The NFL offseason continues in full swing. While teams prep with OTAs and roster changes for the 2023 season of the league, Patrick Mahomes and the Kansas City Chiefs made their debut appearance at the White House on Monday. While missing out on the first opportunity after winning the Super Bowl LIV in 2020, during Donald Trump's reign, they got a second chance on Monday after POTUS Joe Biden invited them to a visit following their Super Bowl LVII win.Even players such as Mecole Hardman and Juju Smith-Schuster, who recently made their departure, were a part of the White House celebrations as a part of the roster that won the Super Bowl LVII. And amidst all the activities throughout the day, the Chiefs kingdom were left stunned after getting to witness a $7 million artifact at the White House.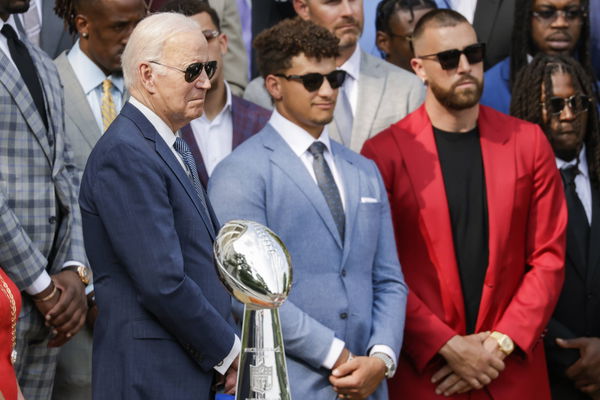 A rare artifact leaves the Chiefs kingdom in awe
Players of the Kansas City Chiefs took to social media to share a walkthrough of their day alongside POTUS Joe Biden. Patrick Mahomes and Travis Kelce gifted Biden a Chiefs jersey with his name on it, while POTUS congratulated the Chiefs on their Super Bowl victory. But there was a certain artifact that left the players in amazement during their White House parade.Recently traded WR Juju Smith Schuster shared various stories on Instagram of his day out at the White House. He even made a TikTok while performing the Antonio Brown dance along with his former Chiefs teammate. His stories shared a walkthrough of various artifacts as they made their way through the President's abode. But in a particular story, we see him and other Chiefs players in awe over a particular piece of furniture at the White House. It is a rare table with cube designs on it. While at first glance it looks like any ordinary table, when Schuster inquired about its price, it was said to be around a whopping $7 million. This left him and the others gasping at the lucrative price of the table.
There were many memorable moments of the Chiefs' day out. But another hilarious moment was when he saved his teammate, Travis Kelce, from embarrassing himself.Patrick Mahomes swoops in like a secret service agent to save Kelce
While the team was busy gifting Biden with his No. 46 Chiefs jersey, Travis Kelce saw it as a moment of opportunity. With Patrick Mahomes and Joe Biden talking to each other while looking at the Lombardi Trophy, Kelce tip-toed away to the presidential podium to address the crowd gathered. He began by saying, "I was waiting for this moment" before Mahomes made his way to cut him off mid-sentence. This sent the crowd into a laughing frenzy, as the 2x Super Bowl-winning QB apologized for his teammate's behavior. It seems to set the tone that Patrick Mahomes is like the strict dad, while Kelce is the happy-go-lucky child of the Chiefs Kingdom.
While they will reminisce about the memories of their White House visit, Mahomes and his teammates will also be looking forward to another successful season ahead. Maybe become back-to-back Super Bowl Champions? Only time will tell how the new season of the league plays out.